At the Classic Motorcycle Mechanics show, held over the weekend of October 19-20 at Staffordshire County Showground, a 50cc Kreidler which was ridden by Robert Dunlop will be proudly displayed alongside many thousands of fascinating motorcycles.
The lean, lithe, lightweight water-cooled Kreidler, with a five-speed gearbox and a Van-Veen crank, was campaigned by Dunlop in events such as Isle of Man Jurby Road Races and in Aghadowey, Northern Ireland, where he won his first race. During Dunlop's career in 50cc racing, the McMullan-supported machine recorded a speed of 98mph.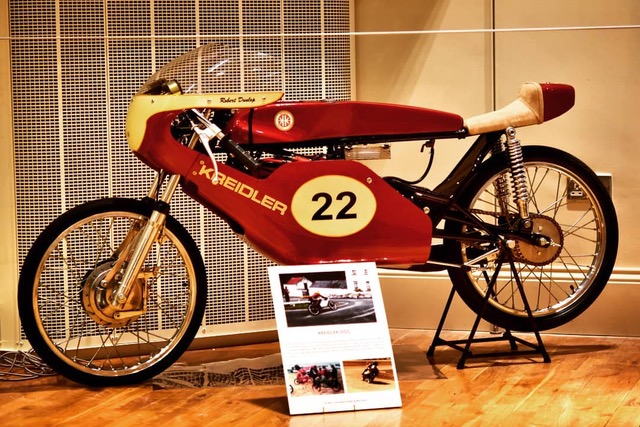 The restored Kreidler glistens in a striking and beautiful maroon, the colour it was when Dunlop purchased it. Before racing the Kreidler, Dunlop painted the bike green, but post-Robert, it was restored to its original maroon.
Northern Irishman Robert Dunlop made his race debut in his home country at the 1979 Temple 100, when he was a teenager. He began a record-breaking run at the Cookstown 100, where his first win came in 1985. His most successful year was 1987 when he scooped the prestigious 'Man of the Meeting' title and four more victories followed; a total of eight victories in the event. During the early part of Dunlop's illustrious career, his extremely quick Kreidler helped him to achieve many race wins and lap records.
The five-time TT winning motorcycle legend tragically died in 2008 after suffering severe injuries in a crash during a practice session for the North West 200 road race in Northern Ireland.
As well as the special Kreidler 50cc, the showground will also be home to excellent club stands, exciting live action including the 'wall of death', the Bonhams autumn sale, classic competition machines and special guest stars from iconic eras of motorcycling. Throughout the weekend, the event will feature more than 900 traders, dealers and autojumble stands offering a wealth of parts and spares for every project.
For October 2019, guests of honour are 10-time world sidecar champion, Steve Webster MBE plus the 'Genius Engineer' and Classic Motorcycle Mechanics contributor, Allen Millyard, who will both be interviewed by compere Steve Plater.
The 26th Carole Nash International Classic Motorcycle Show will take place on October 19-20. To find out more about the show, and to save money by buying your advance tickets, click here.